Hello!
I'm Gered King, a Canadian software developer living in Toronto Ontario. I'm 30-something years old.
Like a lot of "tech people" with their own blog, I am pretty much a huge nerd. I play video games and write code for fun in my spare time. I don't totally and completely fit into the nerd stereotype however as there are some nerdy things I don't like ... such as D&D, which I find incredibly boring.
During the day I work on web apps in the healthcare sector with Clojure. It's a nice change from my previous C#/PHP days, but I try not to fixate on a single language or stack as I strongly believe this limits your growth as a programmer. It's ok to have favourites, but it's wrong to believe in a "one and true programming language."
As far as video games go, I almost exclusively stick to retro stuff. Very much in-line with this, a lot of the coding I do in my spare time also tends to revolve around games with a significant retro-bias (this is also for practicality reasons mind you... it's much easier for a non-artist to struggle through making pixel art then it is for one to try 3D modeling!).
I am almost exclusively a Mac and Linux user. I will only begrudgingly use Windows if it is required for some specific task I need to accomplish. Quite the reversal for me as I used to scoff at the non-Windows users (especially Mac users). As a result of this, I am not a PC gamer at all.
So you can expect that the vast majority of the posts here will fit into the general topics mentioned above with the occasional completely out-there post if I feel so inclined.
Thanks for stopping by!
Developer's / Streamer's Biotope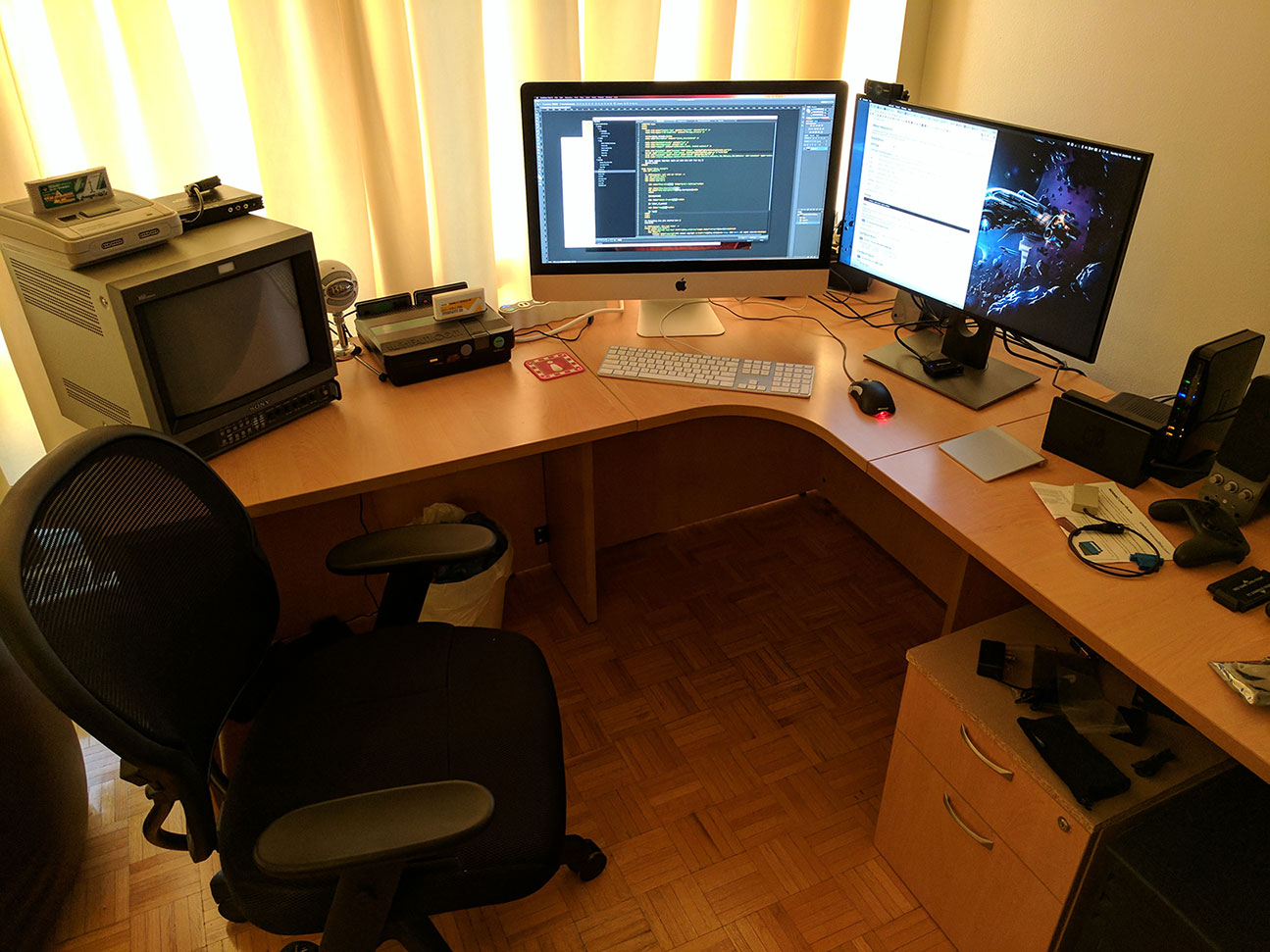 Workstation Equipment (middle/right):
Late 2013 27" iMac
32 GB RAM
512 GB SSD
NVIDIA GeForce GTX 780M
Dell U2717D Monitor
Apple Keyboard with Numeric Pad
Microsoft 5-button IntelliMouse Optical
HON VL700 Series Chair
Twitch speedrun streaming setup (left):
Sony PVM 14M4U CRT monitor
XRGB-Mini Framemeister
Magewell Pro Capture HDMI (via Sonnet Thunderbolt PCIe enclosure)
Blue Snowball Microphone
Casual Gaming Biotope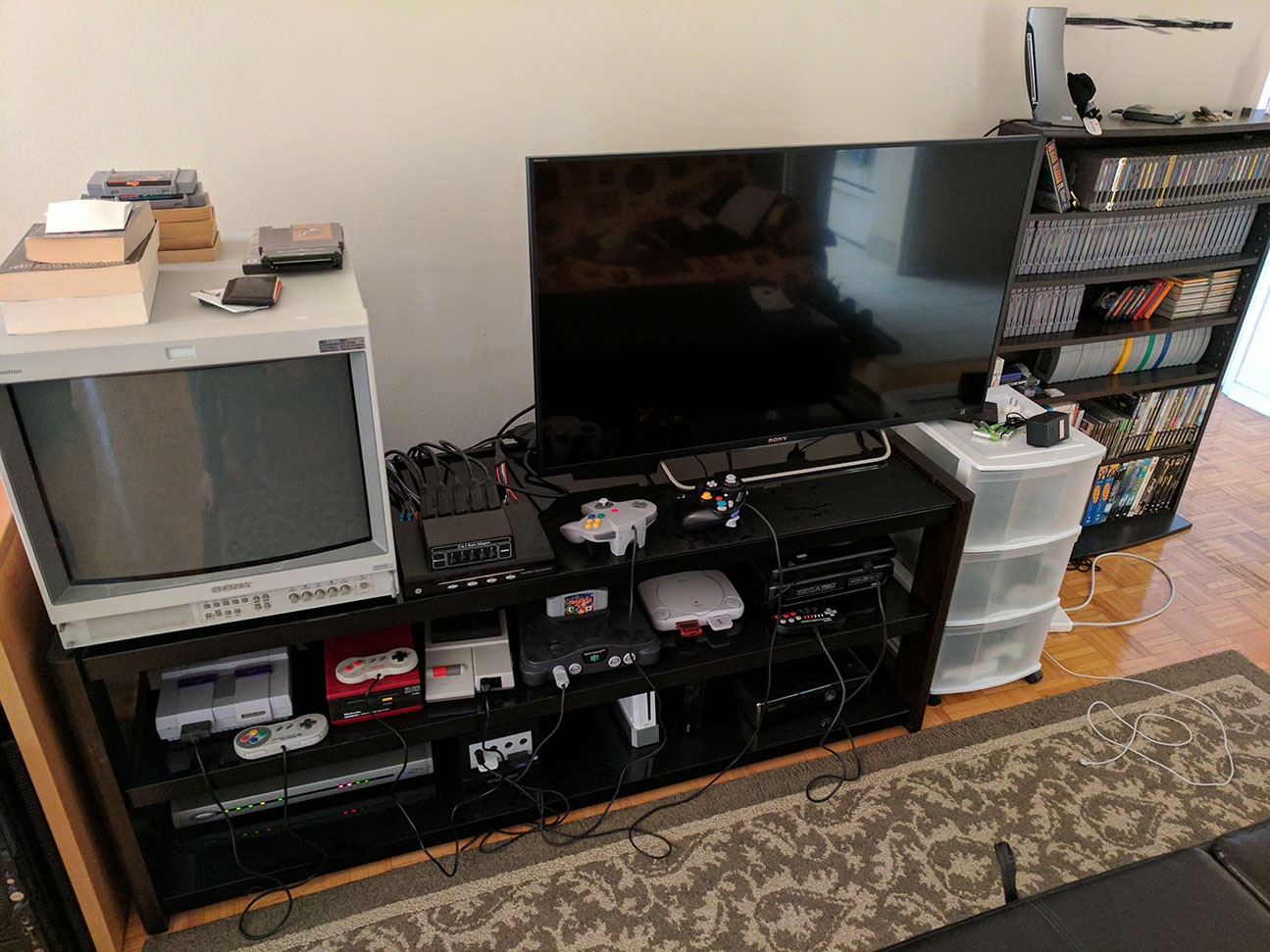 Sony PVM 20L2MD CRT Monitor
Sony KDL42W700B HDTV
5-way SCART Switch (Generic)
GE 73344 4-way Component Switch
Super Nintendo (SNS-CPU-1CHIP-02)
AV Famicom (HVC-101) NESRGB Modded
Famicom Disk System
Nintendo 64 RGB modded via THS7314 RGB Amp
Sony Playstation PSone SCPH-101
Sega Genesis Model 1 TMSS w/ Sega CD Model 1
GameCube DOL-001 (OEM Component Cable, Game Boy Player, Broadband Adapter)
Nintendo Wii (launch model, softmodded)
Nintendo Wii U
Xbox 360 S