Details about what hardware and software I currently use for my tech projects.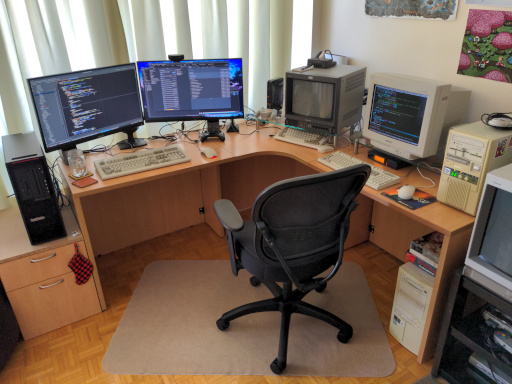 Modern
Hardware
Lenovo ThinkStation P620 Workstation

AMD Ryzen Threadripper PRO 3955WX
64GB DDR4 3200MHz ECC RAM
ASRock AMD Radeon RX 6650 XT 8GB
Samsung 980 PRO 500GB NVMe
1000W Power Supply

ASUS PA278QV 27" 1440p Monitor
Dell U2715H 27" 1440p Monitor
IBM Model M Keyboard (1391401, May 1989)
Microsoft Wheel Mouse Optical
Software
Gentoo Linux
KDE Plasma 5.x
Jetbrains IntelliJ IDEA
Jetbrains CLion
Jetbrains DataGrip
Sublime Text
Sublime Merge
Insomnia
GIMP
Mozilla Firefox
Discord
LibreOffice
Konsole / Bash
Docker / Podman
Rust (Cargo), Java (Maven), Clojure (Leiningen)
Retro
Hardware
Custom built, "baby ATX" form-factor tower 486 computer

UMC UM8498F Motherboard, Intel 80486 DX2 66MHz, 16MB RAM
S3 86C805-P VL41C/V2 1MB VLB
GoldStar Prime 2C MIO V3.1 Multi I/O ISA
Sound Blaster 16 CT2230 ISA
Gravis Ultrasound Classic 3.74 1MB ISA
3COM 3C509B-TPC Etherlink III ISA
Quantum Maverick ProDrive MV54A011 540MB
Matshita CR-583 8x CD-ROM
Epson SD-600 5.25" 1.2MB Floppy Drive
Mitsumi D359T6 3.5" 1.44MB Floppy Drive
Athena Power AP-AT30 300W

Sony Trinitron Multiscan 210GS 17" CRT Monitor
IBM Model M2 Keyboard (1395300, August 1990)
Microsoft Serial Mouse 2.1A
I previously wrote more about this retro PC build here when I first put it together. However, over time I've changed things around to the current configuration detailed above.
Software
MS DOS 6.22
Windows 3.1
Borland Turbo Pascal 7
Watcom C/C++ 10.0
Microsoft QuickBASIC 4.5
Borland Turbo Assembler 4
Borland Turbo Debugger 3
Aurora Text Editor
Deluxe Paint II
GrafX 2